Posted by Johann Seiwald[1]
According to Seychelles' Public Finance Management Act (PFMA) as of 2012, the government is required to prepare its financial statements in accordance with international public sector accounting standards (IPSAS). The government recently reached an important milestone on this path by producing a set of financial statements for the fiscal year 2013 which comply with many of the requirements of the cash basis IPSAS. Seychelles is a front runner among the 18 countries in Africa which have announced plans to align their accounting systems with international standards. These countries include Mozambique, Nigeria, Rwanda, Swaziland, and Zimbabwe.
Though the government has not yet published the new financial statements on the internet, a press notice was released. Consistent with the IPSAS classification, the published statement for the government sector distinguishes between a net cash surplus from operating activities of 91.5 million USD, a net cash outflow for investment of 66 million USD, and a 56 million USD inflow from borrowing in 2013. A comparison of the approved budget and the outturn for 2013 demonstrates the government's ability to manage its fiscal deficit, though not without significant deviations in the projections of revenues and expenditures. Whereas revenues underperformed by about 13 percent, this was balanced by a similar shortfall in spending, thus enabling the government's target of a primary budget surplus to be achieved. While wages, goods and services, and interest payments were estimated accurately, cuts in transfers and capital expenditure had to be made during budget execution (Figure 1). The report provides an explanation of these adjustments.
Figure 1: Comparison of Budget Estimates and Outturns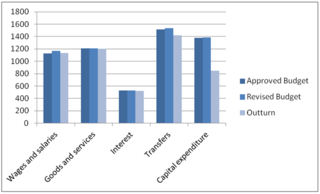 Source: Seychelles Annual Financial Statements 2013
In addition to meeting many of the cash basis IPSAS requirements, the financial statements disclose a range of information that IPSAS recommends be provided on a voluntary basis, such as data on government investment and outstanding guarantees. In addition, a public debt statement provides information on sources of borrowing, repayments of principal and interest payments, and the government's outstanding loan balance.
The report also contains a supplement providing a breakdown of revenues and expenditures by ministry and agency as well as the variances between budgeted expenditures and outturns by economic and organizational classification. An explanation of significant deviations in expenditure at the detailed line item level has not yet been provided, but would improve the quality of reporting and make ministries and agencies more accountable for their financial performance.
The financial statements include an opinion of the Auditor General stating that the financial statements present – with one qualification - the government's financial position, financial performance, and cash flows in accordance with the PFMA, while noting that consolidated statements as required by IPSAS have not been produced.
These new statements represent an important first step in Seychelles' phased modernization of governmental financial reporting. They are part of the government's broader strategy to modernize the PFM system, which includes the development of a medium-term fiscal framework, the introduction of program-based budgets, and reforms in cash management. In moving progressively toward full cash-basis IPSAS compliance, the government will need to provide financial data on all controlled entities such as extra-budgetary funds and public enterprises. This gap should be narrowed within the next few years as the government presents more consolidated information on public sector finances.
In addition, the authorities have declared their intention to complement the present cash-based financial statements with additional information on financial assets and liabilities. The current balance sheet, which focuses mainly on stocks related to cash and short-term borrowings, could be progressively extended to a more comprehensive presentation, including financial assets and liabilities.
---
[1] Technical Assistance Advisor, PFM1 Division, Fiscal Affairs Department, IMF.
 Note: The posts on the IMF PFM Blog should not be reported as representing the views of the IMF. The views expressed are those of the authors and do not necessarily represent those of the IMF or IMF policy.