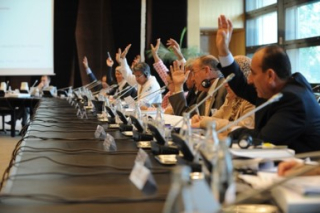 Posted by Benoit Wiest and Lamia Moubayed[1]
At its 20th session, the United Nations Committee of Experts on Public Administration argued that "the problem facing most conflict-affected countries is the potential for a growing gap between those that have effective public institutions […] and those that do not have access to such public capacity".[2] Institutes of Finance and Schools of Governance in the Middle East and North Africa (MENA) region play an important role in building public sector capacity. This role takes a particular dimension in conflict-affected countries.
These countries suffer from high disruption in their public administrations. At some point, capacity challenges may be so severe as to threaten the very survival of the State. As governments focus on immediate priorities to solve the conflict, public administrations tend to lose key knowledge, as personnel depart from their jobs, or assets, including digital records, are destroyed. In exceptional times, regular processes, even if enshrined in legislation, tend to be replaced by poor PFM practices such as unorthodox spending procedures, absence of approved budgets, and accumulation of arrears.
Several MENA countries have been affected by conflicts, resulting in high disruption of their administrations and PFM capacities. Institutes of Finance – which are training arms of Ministries of Finance and in some countries the broader public sector – have been instrumental in maintaining a lifeline of knowledge during conflicts, organizing peer to peer exchanges with the public and private sectors, and supporting the rebuilding of core institutions.
Instruments of Innovation and State Modernization
The mission of Institutes of Finance is first and foremost the development of PFM skills and competencies, a much needed "capital of competence" that contributes to reducing risks in fragile and conflict prone countries. Coordination centers par excellence, the Institutes operate at the intersection of many ministries, particularly ministries of finances, economy, and civil service. Their intimate knowledge of the public sector's workforce and structure and their horizontal relations with policymakers, often establish them as trusted partners called upon to deliver support to policy advice and implementation. As such, they can actively broker a policy dialogue between public and private sector actors, think tanks, and civil society organizations.
The following examples help illustrate how Institutes of Finance can fill a knowledge gap during conflicts:
The Palestine Institute of Public Finance, founded in 2011, was instrumental in implementing sustainable actions financed by a multi-donor trust fund aiming at improving budget management and control, financial accountability, and the modernization of public procurement. The Institute also deployed digital learning to reach out to civil servants across all Palestinian territories.
In Libya, in the immediate aftermath of the conflict, the Accounting and Financial Training Institute was reinstated and signed a Memorandum of Understanding with the Middle East Technical Assistance Center of the IMF (METAC) to build PFM capacities in revenue mobilization, cash management and audit, and facilitate dialogue and consultations on key reforms with the private sector and civil society organizations.
In post-civil war Lebanon, the Institute of Finance contributed to the improvement of the regulatory, fiscal and customs frameworks which were essential to the country's economic revival. The Institute was instrumental in supporting successful implementing of fundamental reforms such as introducing VAT, modernizing public expenditure control and public accounting, advancing public-private sector dialogue, and improving budget transparency.
Hubs of Exchange and Partnership-Building
In conflict and fragile settings, important partnerships within a country are often disrupted. Institutes of Finance can function as hubs of stability and maintain strong bonds with local, regional, and international interlocutors. In Lebanon, for example, the Institute of Finance has helped maintain cooperation with METAC, the OECD and many other local and international partners. Some of those partners have contributed to many areas of PFM reform, including the enactment of a modern public procurement law in July 2021.
In addition, there have been successful collaborative ventures between Institutes of Finance in different MENA countries. A good example is the ratification in 2009 of a Memorandum of Understanding between the Lebanese and Palestinian Ministries of Finance to provide technical assistance with the support of French development aid. A similar arrangement has been established between Jordan and Yemen. In 2006, Institutes of Finance also founded the GIFT-MENA network (Governance Institutes Forum for Training)[3], one of the few platforms in the Arab region aiming at training, building capacities and transfer of know-how.
Conclusion
Institutes of Finance have played a constructive and stabilizing role amidst conflicts, by preserving PFM competencies and maintaining partnership and dialogue among key PFM actors. What lessons can be drawn from the various experiences of Institutes of Finance in the MENA region? First, a recognition that the Institutes are foundational elements of technical support to PFM reforms, especially in conflict and post-conflict countries. Second, building partnerships and communities of practice across the region, which are currently lacking, has the potential to invigorate experience-sharing in PFM reforms. And third, a recognition that the role of the Institutes in capacity development is not solely a technical issue, but also a dialogue issue that can help bridge the gap between citizens and policymakers, in terms of articulating reform objectives and how best to achieve them.
[1] Benoit Wiest is a Public Financial Management Advisor at the IMF's Middle East Technical Assistance Center in Beirut, Lebanon; Lamia Moubayed is Director of the Institute of Finance of Lebanon.
[2] Jackson, P. (2021) "Note by the Secretariat: Building Strong Institutions for Sustainable Development in Conflict-Affected Countries," Committee of Experts on Public Administration, E/C.16/2021/6.
[3] GIFT-MENA is a network of civil service training schools, covering 60 institutions and 20 countries, that promotes good governance and dialog among stakeholders.
Note: The posts on the IMF PFM Blog should not be reported as representing the views of the IMF. The views expressed are those of the authors and do not necessarily represent those of the IMF or IMF policy.