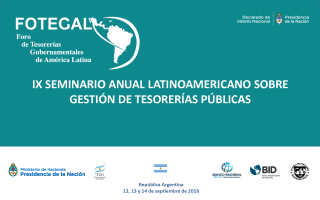 Posted by Gerardo Una[1]
The 9th Forum of Latin American General Treasurers (FOTEGAL) took place in Buenos Aires, Argentina from September 12-14, 2018. The event was organized by the Ministry of Finance of Argentina, together with the IMF, the Inter-American Development Bank (IDB), and the World Bank. A separate but parallel meeting of the Latin American General Accountants Forum (FOCAL) also took place.
During the forum a book on treasury management in Latin America prepared by FOTEGAL was launched. The book comprises a series of chapters describing the main advances in core treasury functions in each of 12 countries[2]. The chapters discuss areas such as cash management, treasury single account (TSA) functions, the collection of government revenues, and payment processes. The book is presented from the practitioner's point of view since each chapter is written by the Treasury Director of the respective countries.
Other issues discussed during the forum were how to improve the TSA, the state of art of electronic payment systems, information systems that provide systematic support for cash management, and advances in operational risk management for state treasuries. Gerardo Una from FAD also presented a draft technical note requested by FOTEGAL on the role of the treasury in the implementation of fiscal rules in Latin America[3]. Among the study's main recommendations are aligning the institutional coverage of the TSA and the fiscal rules, and improving the coordination of budget execution and cash management to achieve the fiscal rule targets, especially when the targets are established on a cash basis.
The book, which was published with the support of the IDB, the IMF and the World Bank, as well as all the presentations made at the forum can be found on FOTEGAL's website
[1] Senior Economist, Public Financial Management II (M2) Division, Fiscal Affairs Department, IMF.    
[2] Argentina, Brazil, Chile, Colombia, Costa Rica, Ecuador, Mexico, Panama, Paraguay, Peru, Dominican Republic, and Uruguay.     
[3] The technical note was prepared by Virginia Alonso Albarran, Gerardo Una, and Franklin Huaita. The authors developed a survey that covers the seventeen FOTEGAL countries members. The study is financed by the Swiss State Secretariat for Economic Affairs (SECO).
Note: The posts on the IMF PFM Blog should not be reported as representing the views of the IMF. The views expressed are those of the authors and do not necessarily represent those of the IMF or IMF policy.