Posted by Tim Irwin[1]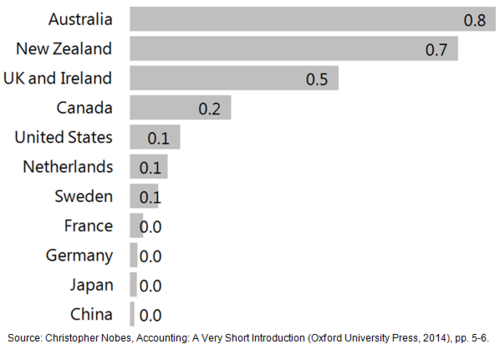 Christopher Nobes's Accounting: A Very Short Introduction (Oxford University Press, 2014) is about private not public financial management, but it may be of interest to people working on PFM.
For one thing, there are many similarities in the accounting problems faced by firms and governments, even if there are also crucial differences in their objectives, their functions, and their influence on the economies in which they are located. Moreover, Nobes offers a succinct and persuasive explanation of why private-sector accounting developed as it did, in response to the changing needs of businesses and their investors (e.g., why accounts payable and receivable were shown on balance sheets before cash and inventory). That explanation may prompt thoughts about how government accounting should develop.
For another, Nobes's comments on the rise of International Financial Reporting Standards (IFRS) suggest interesting parallels with the development of International Public Sector Accounting Standards. He writes (pp. 75–76),
The UK's joining the EU was "the main spur to the setting up by accountants of the IASC [International Accounting Standards Committee, the forerunner of the IASB, or International Accounting Standards Board] to try to keep accounting out of the control of governments."
"The EU had always been opposed to the IASC, as a Trojan horse of Anglo-American accounting, but eventually it accepted IFRS as the only practical way of getting harmonized standards for EU capital markets."
"The inability of governments in Roman law countries (e.g. France) to give up control of accounting has led to constant attempts at interference from the EU in the operations of the IASB."
Nobes also presents interesting data on the number of members of each of several national accounting bodies (pp. 5–6). The chart above expresses these numbers as percentages of each country's population in 2013, rounded to the nearest decimal point. Nobes notes that international comparisons are "fraught with difficulties" (p. 7) and that there are accountants who are not members of accounting bodies. Nevertheless, the differences are striking. If they reflect differences in the influence of accountants in each country, they may help explain why the Australian and New Zealand governments were among the first to adopt private-sector-like accounting, while the German government has shown little interest in doing so.
---
[1] Senior Economist, PFM1 Division, Fiscal Affairs Department, IMF 
 Note: The posts on the IMF PFM Blog should not be reported as representing the views of the IMF. The views expressed are those of the authors and do not necessarily represent those of the IMF or IMF policy.