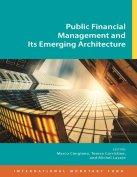 Taking Stock and Looking in the Crystal Ball
Posted by John Kamensky1
I count myself as a close observer of U.S. trends in performance and budget reform efforts. But every so often, I find it useful to step back and survey global trends to gain a fresh perspective, and a new appreciation, of the art of the possible.
With that lens, I read the International Monetary Fund's publication, Public Financial Management and Its Emerging Architecture,2 edited by Marco Cangiano, Teresa Curristine, and Michel Lazare, and found it provides me with the global perspective — and inspiration — I was looking for.
Several dozen contributors to this book lent their considerable real-world expertise and insights to analyze budget and finance reforms that have evolved over the past two decades. None pretend to have a magic formula for success. But the concluding author, Richard Allen, on the concluding page, reminds us: "the reform of budgetary institutions is an extremely slow and challenging process that has taken more than 200 years in advanced economies . . . and is still not complete."
Contributing author, and veteran global budget expert, Dr. Allen Schick, lays out the conceptual framework for the book. He highlights three sets of reforms to various countries' public financial management systems: "employ new information, process adjustments, and constrictive rules as levers for changing behavior and outcomes." While he and his fellow authors concede that there is no "silver bullet" to fixing budget and debt problems, he says these three sets of reforms, or "levers," have led to changing behaviors and improved budget and financial outcomes in many countries.
Lever 1: New Information. "Managing public finance equates to managing information," observes Schick, who goes on to say: "The basic assumption is that changing the mix of information changes the behavior of public finance managers."
But Schick cautions, "The more information thrust upon public finance managers, the more they can ignore." He says the challenge is to transform information from "useful" to "essential" because good-to-have information is easily disregarded. He also notes that more information can "bring more issues, interests, and perspectives into play" which makes it harder to reach decisions.
Lever 2: Process Adjustments. Schick says "process is the conversion of information into decisions, actions, or documents." He says that creating processes that become routine is important: "Repetition of the routines year after year reduces conflict, simplifies tasks, stabilizes roles and relationships, and coordinates the numerous chores that must be completed." As a result, players can focus on the substance of decisions to be made and not fight over procedures or create new ones each year.
An entire section of the book describes a range of process-oriented reforms undertaken in different countries across the globe — fiscal responsibility legislation, numerical rules, medium-term budget frameworks, fiscal risk management, and independent fiscal agencies — to promote better fiscal responsibility. In fact, Schick concludes: "processes matter a great deal. . . because they generate and transmit information that shapes the behaviors of key actors."
Lever 3: Constrictive Rules. Schick candidly notes that "Reliable information and sound procedures can, and often do, produce subpar or unwanted outcomes." As a result, reformers have turned to the use of constrictive rules where medium-term fiscal constraints limit current budget decisions. In fact, 76 countries have put fiscal rules into place.
Schick says that constrictive rules are intended to tie the hands of political leaders and managers but can have "unforeseen or unintended side effects" that proscribe future actions: "They may be promulgated under one set of conditions, and implemented under very different conditions." He points to the many fiscal rules set by the European Union before the financial collapse in 2008 and how these rules limited many countries' ability to recover.
Are We There Yet? While many countries have adopted a mix of reforms using all three levers, circumstances have not yet resulted in consistently successful budget and finance outcomes. The editors note in their introduction that "Information alone may in many cases not be sufficient to change key actors' behavior." In fact, Dr. Schick is even less sanguine: "Rules can fortify politicians and managers who want to do the right thing. But they cannot invent commitment where there is none." He says many countries have introduced reforms, but "Their success will depend as much on political and management leadership as on formal systems."
______________________
1 John M. Kamensky is a senior fellow with the IBM Center for The Business of Government in Washington, DC. He is a former U.S. federal executive, involved in the drafting and implementation of the Government Performance and Results Act. He also a fellow of the National Academy of Public Administration and can be reached at john.kamensky@us.ibm.com.
3 The book can be purchased at Amazon and the IMF Book store.
 Note: The posts on the IMF PFM Blog should not be reported as representing the views of the IMF. The views expressed are those of the authors and do not necessarily represent those of the IMF or IMF policy.