Posted by Srinivas Gurazada[1]
The Public Expenditure and Financial Accountability (PEFA) framework has been a preferred methodology for assessing progress on PFM reforms globally. Since I became the Head of PEFA Secretariat a few months ago, I have been reflecting on the need to build on its unique strengths and prepare a PFM agenda in the post COVID-19 world.
The PFM framework:  Over the past two decades, the success of the PEFA has largely been attributed to its objective, evidence-based approach and the ability to adapt to the changing requirements of governments when it comes to PFM systems.  The first version of PEFA 2005 laid the foundations, and by the time the second version was released in 2011, countries were also able to monitor progress of PFM systems over time. After the current  version was released in 2016, standard practices for country ownership and quality assurance processes ("PEFA check") were put in place. Today, there have been over 650 assessments in 153 countries (see map).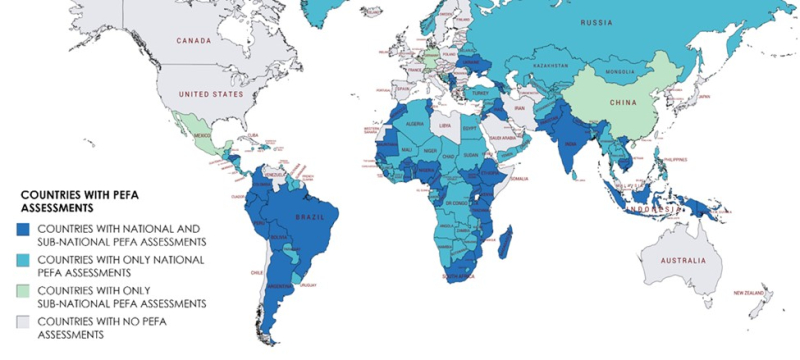 As we move into 2021, fresh expectations are emerging. Existing and upcoming products and guidance from the PEFA initiative could make a significant contribution. Five such ideas are discussed below.
Climate change: The global policy objective to mainstream climate change into public finances is witnessing innovations like Green Budgeting, budget tagging for climate, and linking Nationally Determined Contributions (NDCs) to budgets. PEFA has piloted 'PEFA Climate' – a supplementary tool for assessing climate responsive PFM which will identify best practices and help governments make their PFM systems more responsive to climate change.
Gender responsiveness: Inclusive and faster recovery from the pandemic will require a stronger emphasis on gender equality in public finances. PEFA issued its 'Gender responsive public financial management framework' (Gender PEFA), which will contribute to governments' plans and designs for budgetary policies that promote gender equality, allocate resources and track expenditure for gender responsiveness, and assess the impact through a gender lens.
Overcoming service delivery bottlenecks: COVID-19 has put enormous strain on service delivery processes in most countries. There is now a greater need to ensure that PFM systems are configured as systems as enablers for effective service delivery. Sectors like health and education are demanding customized PFM systems. PEFA indicators on the predictably of in-year resource allocation, exceptional payments and presentation of resources received by service delivery units, provide valuable information to understand and support service delivery. At sub-national level, PEFA is piloting a service delivery module which assesses PFM systems. PEFA indicators can be used in conjunction with other tools (e.g., Public Expenditure Reviews, FinHealth, and the World Bank's PFM in Health for Service delivery tool) for deeper insights into service delivery bottlenecks. PEFA is also working on a position paper on the effective use of PFM systems in general, and PEFA framework specifically, for service delivery.
Greater focus on results and efficiency: Governments are increasingly switching towards focusing on results or "what money buys" from budget allocations, and making more use of accrual basis accounting system and performance budgeting systems which focus better on results. At sector level results-based financing is becoming more popular, particularly in  the health and education sectors.  PEFA reports contain valuable information on results and performance. At a broad level, the use of PEFA assessments promotes greater efficiency in government operations, and the analytical underpinnings for advanced PFM reforms.
Supporting progress towards Sustainable Development Goals: COVID-19 is bringing into question the ability of countries to meet their obligations under SDG 2030. Several development partners and governments recently released the PFM for UHC2030 policy note indicating the key role that PFM is going to play in achieving the SDGs in the post COVID-19 world. PEFA data corresponding to PI 1 (aggregate expenditure outturn) are being used to annually monitor SDG 16.6.1 (built effective accountable and inclusive institutions at all levels).  PEFA will increasingly work on the use of PFM information in accelerating the pace of progress towards the SDGs.
The PEFA initiative continues to respond to the increasing expectations of stakeholders. Two upcoming global knowledge products in the coming months – the PEFA Global Report on Public Financial Management (with detailed insights on trends on progress and limitations seen globally) and an update of the Stocktaking of PFM Tools will support governments and practitioners in identifying opportunities to scale up their efforts to improve PFM in the post COVID-19 world. We look forward to collaborating with all stakeholders in this joint endeavor to increase the value and effectiveness of PFM systems.    
This article is part of a series related to the Coronavirus Crisis. All of our articles covering the topic can be found on our PFM Blog Coronavirus Articles page.
[1] Head of the PEFA Secretariat.
Note: The posts on the IMF PFM Blog should not be reported as representing the views of the IMF. The views expressed are those of the authors and do not necessarily represent those of the IMF or IMF policy.