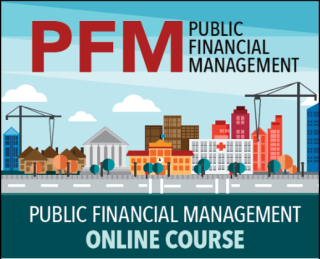 Posted by: Manal Fouad

IMF Online PFM Course
PFMx: May 9 - July 4, 2018
Register by May 2, 2018
 The Fiscal Affairs Department and the Institute for Capacity Development of the IMF are pleased to announce a new offering of the online course on Public Financial Management. This free online course, offered on the edX platform, is open for government officials, development agencies, civil society, parliamentarians, and general public. The total workload is 40-50 hours, self-paced over 8 weeks. Please watch the course introductory video. 
If you are a government official or work for a development agency please use this link to register
If you are from a civil society organization or are NOT affiliated with government, please use this link.
Target Audience: All government officials and development agencies are welcome to register. The course is particularly relevant for mid- to senior-level officials in ministries of finance, treasuries, debt management offices, ministries of economy, or financial planning divisions in line ministries. It is also targeted at officials involved in capacity strengthening functions related to public financial management (PFM). The training is also relevant for civil society organizations, parliamentarians and budget offices, and any individuals with an interest in public policy, and government accountability and transparency. 
Requirements and Qualifications: Basic understanding of PFM systems would be helpful. Access to a computer with a reliable Internet connection with Google Chrome web browser is essential. 
Course Description: This online course, presented by the IMF's Fiscal Affairs Department, provides an overview of PFM systems, institutions, and capacity building in developing and emerging market economies. It focuses on PFM issues based on the IMF's operational and analytical perspectives, in support of macroeconomic stability, inclusive growth, achievement of the Sustainable Development Goals (SDGs), and good governance.

The training covers a wide range of topics, and treats PFM as an integrated system. As such, it focuses on PFM priorities, reform objectives and implementation risks. The course takes conceptual and practical approaches, and includes testimonies from ministers of finance, practitioners, and civil society. 
Course Objectives: In this course, you will learn:
Why PFM is an important tool to implement public policies. 

• How to describe and analyze the budget cycle, and its main components.

• How PFM systems contribute to improved fiscal performance.

• The benefits of fiscal transparency, fiscal reporting, and management of fiscal risks.

• How civil society, public participation and supreme audit institutions keep governments accountable.

• The importance of prioritization and sequencing PFM reforms; and the roles of political institutions and country context.
For a full list of IMF online courses please go to www.imf.org/moocs

Note: The posts on the IMF PFM Blog should not be reported as representing the views of the IMF. The views expressed are those of the authors and do not necessarily represent those of the IMF or IMF policy.